CURRENT
From our community friends:
Go For Broke National Education Center H.R. 422 Call for Artists
Website

In celebration of the 30th anniversary of the signing of the Civil Liberties Act of 1988, Go For Broke National Education Center (GFBNEC) will host H.R. 442: Nisei Veterans and the Fight for Civil Liberties, a temporary exhibition highlighting stories of Japanese American World War II veterans and their instrumental role in the fight for redress. To accompany the temporary exhibition, GFBNEC is searching for two or three local artists to create new pieces inspired by the Nisei veterans' lasting influence on the redress movement.
Two-dimensional proposals of drawings/sketches, images, or renderings along with a brief statement (~250 words) may be submitted for consideration. Final pieces to be exhibited may be three-dimensional. Please note the physical exhibition space is limited. GFBNEC staff will work with the artists' proposals on size restrictions on an individual basis. At the conclusion of the exhibition, all pieces will be auctioned off at the annual Evening of Aloha gala dinner. GFBNEC is offering a $500 stipend to each selected artist.
The exhibition will run from Saturday, August 4, 2018 through Sunday, September 16, 2018.
Deadline
Monday, June 4, 2018
Application
Apply online here: docs.google.com/forms/d/e/1FAIpQLSfhf-e-oge4oQRH2wHm-mICYtQQ-74J2EsydbqqrtQX1nw3dg/viewform
Resources
Additional resources for research and inspiration may be found at docs.google.com/document/d/1ybudTA2hxwqz2Ivskil3qdGRdl1OXbfef-7oh1U3Qg0/edit?usp=sharing.
Questions?
Please contact Andie Kimura at andie@goforbroke.org.
---
PAST
WCCW Emergency Health Grant for Artists
芸術家を対象とした緊急医療に対する補助金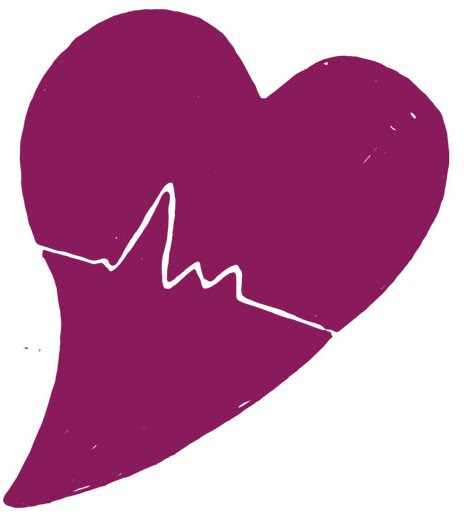 SLT is partnering for Women's Center for Creative Work's 2018 Emergency Health Grant for Artists, which gives $2000-$3000 grants to artists with medical, mental health, or dental emergencies or illness-related financial needs. The application period is open now through March 15.
Application Workshop
Saturday, March 10 from 10–1pm
Far East Lounge, 353 E 1st St
A free workshop with one-on-one support to help you write your application. In English and Japanese.
Eligibility
Artists of all disciplines who:
Live in Los Angeles, San Bernardino, Riverside, or Orange Counties.
Identify as one or more of the following: female, transgender, non-binary, person of color, or low-income.
Have a medical, mental health, or dental emergency, OR have an illness-related financial need.
Are not enrolled in a full-time academic program.
Are at least 21 years old
Deadline
March 15 (PAST)
Apply
For more information and to apply: www.womenscenterforcreativework.com/eh-grant
芸術家を対象とした緊急医療に対する補助金
Women's Creative for Creative Work (WCCW)は、3年目となる芸術家を対象とした緊急医療に対する補助金の募集をお知らせします。各芸術家は2000ドルから3000ドルまでの資金を応募できます。応募期間は2018年2月15日から3月15日の間です。WCCWと協賛の団体、医療関係者が、合同で応募者の応募理由、芸術家としての業績、緊急度、資金を有効に使えるかを審議して受給者を選びます。
応募受付期間中、WCCWと協賛団体が応募についての説明と願書の書き方を指導するワークショップを行います。このワークショップでは、質問を受け付け、願書作成のお手伝いをします。
応募受付は、2018年2月15日から3月15日まで。
締め切りは、2018年3月15日の11:59PM PSTです。
願書作成ワークショップ
2018年3月10日(土)・午前10時〜午後2時
Far East Lounge, 353 E 1st St
応募についての説明と願書の書き方を指導する無料ワークショップ
応募資格
全ての分野の芸術家で以下の条件を満たす人:
ロスアンゼルス、サンベルナディーノ、リバーサイド、オレンジのいずれかの郡に住んでいる人。
以下の人種/アイデンティティーの少なくとも一つに属している人:女性、性同一性障害者、Xジェンダー、低所得者、有色人種。
疾患、精神疾患、緊急を要する歯科治療、又は、病気治療のための資金援助が必要な人。
フルタイムの学生ではない人。
21歳以上の人。
締め切り
2018年3月15日の11:59PM PST
womenscenterforcreativework.com/eh-grant
---
Apply for LTSC +LAB Arts Residency 2018 (CLOSED)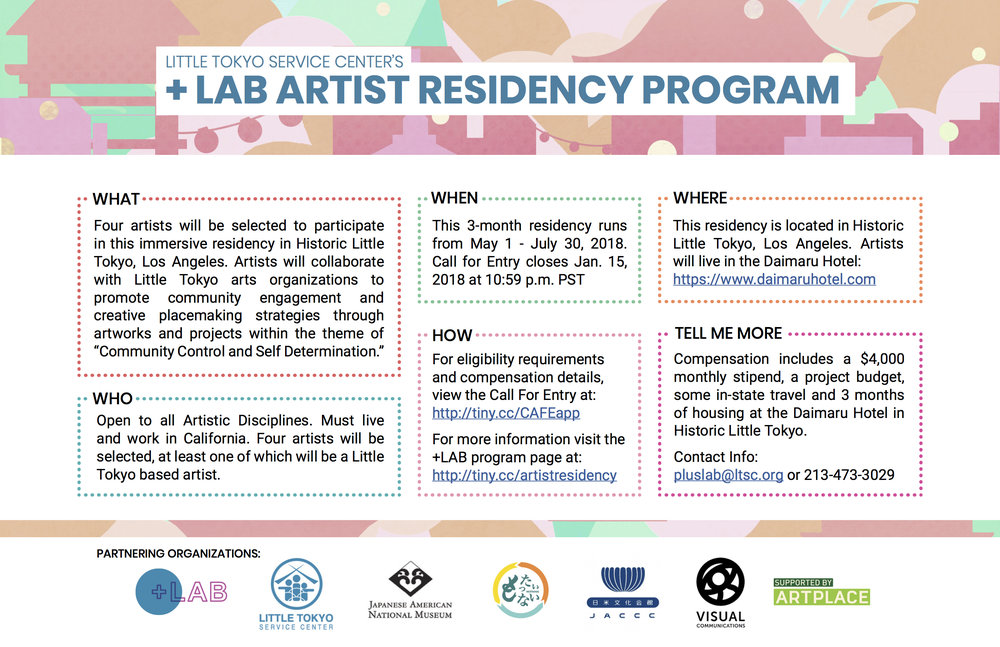 Little Tokyo Service Center seeks creative artists whose artistic practice reflects a desire to work collaboratively or within a community context; reflects an awareness of culture, socio-economic and political paradigms; has a demonstrated interest in subject matter addressing the history of Japanese American communities; and is willing to be engaged with the residency program through their art making disciplines including: social and civic practice; sculpture and installation; visual art; photography, video or media; design; creative writing; movement and dance; music or performance traditions.
Deadline
January 15, 2018 (Closed)
Stipends/Other Support
- $4000 monthly stipend
Up to $500 RT in-state travel
Up to $8000 project budget
Facilities and Services
- Housing: Private single bedroom in Hotel Daimaru in downtown Los Angeles, with shared bath
Studio/Workspace provided by host organizations.
Eligibility
At least 21 years of age by application deadline
Not currently enrolled in a degree-seeking program
Able to participate in the residency for the full three month period
Must live and work in California
Must agree to live for the three month residency session at the Hotel Daimaru
CV should demonstrate working professionally for at least five years